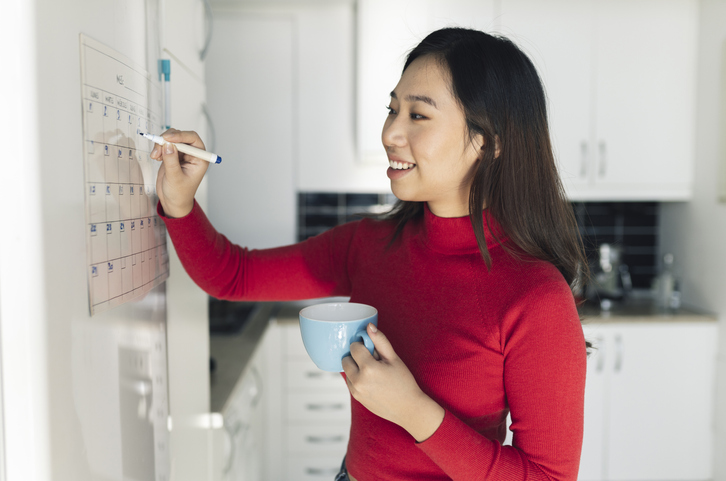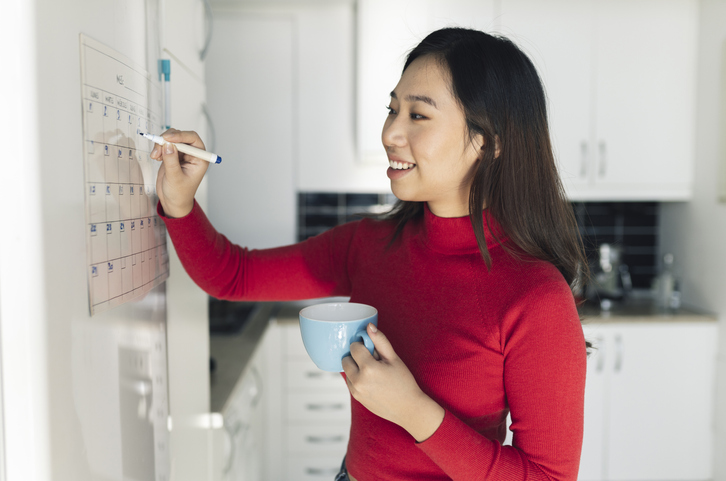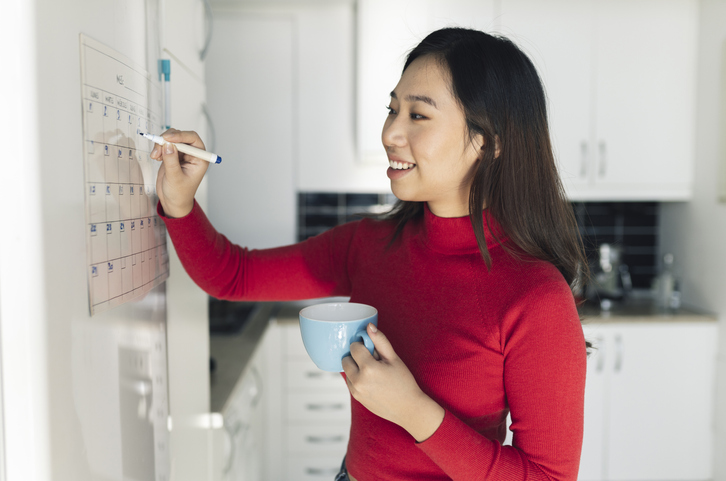 7 Healthy Strategies That Make It Easier to Care for Your Diabetes
Managing diabetes is a big task, but focusing on smaller actions can make it less overwhelming. Here, experts lay out the how and the why of seven important changes you can make to your everyday routine.
Managing diabetes is a big task, but focusing on smaller actions can make it less overwhelming. Here, experts lay out the how and the why of seven important changes you can make to your everyday routine.
As you read through the list, see which changes stand out to you most. "It's not going to be easy to make all these changes, and it's harder to make all the changes at once. So pick a couple that you really want to work on first," says David K. Miller, M.S.Ed., RN, a certified diabetes educator and care coordinator at Community Health Network in Indiana.
1. Plan ahead.
Why: When you plan ahead, you're more prepared. And this can make it more likely that you'll stick with your healthy behaviors, says Cara Schrager, M.P.H., RD, a virtual private practice dietitian and certified diabetes educator.
How: At the start of each week, carve out time to look at your calendar. Consider when you'll eat at home and when you'll eat out, and aim for regular mealtimes. Look at which days you'll have more time for longer exercise sessions and which days you'll need to fit in shorter bursts of activity.
Select a few recipes, make a list of ingredients and shop for the whole week at once. "I think making a list and sticking to it helps you save money and focus on what you really need," says Schrager.
Schedule exercise in 10- or 15-minute chunks on busier days, and aim for longer sessions when you have more time. And plan around your energy levels. If you're typically too tired in the afternoons, plan to exercise in the morning or walk at lunch. No time to get to the gym? Plan for at-home activity a few days a week.
2. Get moving.
Why: You've heard it before: Exercising more often, even for just 30 minutes a day, can improve your health, says Elizabeth A. Walker, Ph.D., RN, CDE, professor emerita of medicine and of epidemiology and population health at Albert Einstein College of Medicine in the Bronx, New York. Those benefits include improving blood glucose, lowering your risk of heart attack and stroke, helping you shed pounds and helping improve your mood.
How: Finding activities that you enjoy is key, says Schrager. Like to socialize? Try starting or joining a walking group that texts or calls to remind each other to get moving, Walker says. This can be great if you live or work in an area where you might not feel safe walking alone. If you hate the gym or can't afford it, try an online exercise class. The key is to find an activity you enjoy—that you look forward to, even.
Another key to staying active? Motivation. Schrager suggests using a pedometer, such as the one built into your phone, which can track your steps to keep you motivated. Set a step goal and reward yourself when you meet it each week.
3. Ask for support.
Why: Having support from others living with diabetes can be particularly helpful in managing a long-term chronic condition. "Knowing that someone else is going through the same thing mentally helps you get through what you're doing," Schrager says.
How: Find others with diabetes through local classes or online groups. You might find a buddy in a diabetes education class with whom you can compare notes, stay in touch and offer support even after the class is finished, Miller says. Online, Twitter has become a resource for diabetes support, with hashtags like #DSMA (diabetes social media advocacy) and #DOC (diabetes online community), says Jill Weisenberger, M.S., RD, CDE, author of Prediabetes: A Complete Guide.
Thinking about which friends or family members can support you can be helpful too, Schrager says. For example, you might want to bring a family member or friend with you to your doctor's appointments, to help you take notes or remember changes to your plan. Weisenberger suggests being direct when asking family members for support: "Will you clear the dinner dishes so I can spend a few minutes on the treadmill?"
4. Cook a big batch.
Why: Making batches of food can save time and money and can make it easier to eat more meals at home. It can also help you choose lower-calorie meal options, and help you be more in control of what the ingredients are and how the food is prepared, Schrager says. Having a pre-prepped meal can be a lifesaver during busy weeks when you're swamped with work or entertaining family.
How: Make large batches of one-pot recipes, such as soups, stews and chilis, Schrager says. You can reheat individual servings throughout the week for lunches and dinners. Or cook a pot of whole grains that you can use as the foundation for meals, or prep snacks like hard-boiled eggs or sliced vegetables.
5. Be an active participant in your health care.
Why: Sharing your concerns and asking questions about your diabetes-management plan can help you and your provider find solutions together. For example, if you are having trouble remembering to take your medicine, or if you are struggling to afford a prescription, telling your provider can let them know you need a change in your plan. Your provider may be able to change the time of day you take your medicine or help you find a more affordable option.
How: Take notes between visits so you remember what you want to talk with your provider about. Journaling can help you pinpoint areas that are and aren't working. For example, write down the times when you forget to take your medication, notice side effects or struggle with your food plan.
Then, during your visits, share your notes with your provider. "Don't be afraid to ask: Is there something that I should be doing that I'm not? Is there something I should know that I don't?" Miller says. Be honest about your health beliefs, including whether you intend to follow a provider's advice, Walker says. Talking to your provider may spark practical, realistic conversations that could have a big impact.
6. Get to bed on time.
Why: When you have diabetes, both the quality and quantity of your sleep matter, says Vsevolod Y. Polotsky, M.D., Ph.D., a professor of medicine at Johns Hopkins School of Medicine in Baltimore. Not getting enough quality sleep can affect blood glucose. It can also lead to food cravings, which can increase when you don't get enough sleep. And many diabetes complications can affect sleep, including sleep apnea, neuropathy and nocturnal hypoglycemia.
How: There are many small changes you can make to help you practice good sleep habits. Get up at the same time each day to help train your body to a regular sleep schedule, says Polotsky. Avoid daytime naps and caffeine-containing drinks after lunch if you have trouble sleeping at night. Try not to use electronic devices like cell phones or watch television in bed before falling asleep, says Polotsky. Aim for at least seven hours of sleep per night, which is the amount recommended by the American Academy of Sleep Medicine.
Talk with your doctor if you notice these signs of sleep apnea: snoring, frequent awakenings and feeling tired during the day despite seeming to get enough sleep. Your provider may refer you to a sleep specialist for treatment. If neuropathy is keeping you awake at night, talk to your doctor as well: treating the nerve pain could help improve your sleep. Signs of nocturnal hypoglycemia include nightmares, restless sleep and waking up with a headache or drenched from sweat. Talk with your doctor if you notice these as you may need a change of medication or insulin dosing.
7. Value yourself.
Why: Caring for diabetes is hard work. Acknowledging that you are at the center of your care—and that you are the one doing this work—is important. Listening to yourself can help you be realistic about what you have the energy to do and can help you prioritize based on what is most important to you. Valuing yourself can help you take the time and energy you need to take care of you, says Martha Funnell, M.S., RN, CDE, a research scientist emerita in the learning health sciences department at the University of Michigan Medical School.
How: Think about what is important and inspiring to you. Consider your goals, not necessarily the goals from doctors or your health care team. Weisenberger suggests creating a "personal wellness vision" to help you set goals, which is a short statement about how you will feel and act when you are at your healthiest. This vision of what you are working toward can help you stay motivated.
Funnell recommends asking these questions: What am I good at, in terms of caring for my diabetes? What am I struggling with? What is important for me? Reflect on strategies that have worked in the past, and incorporate those in your daily life. You can do this on your own or work with others, such as a diabetes support group, your family or friends, or a certified diabetes educator.
Working with a CDE can help you pinpoint your beliefs, concerns and goals, says Funnell. Part of an educator's job is to listen. A CDE can also help you gain the information, skills and support you need to make better decisions about your care.
© Meredith Operations Corporation. All rights reserved. Used with permission.